Receive Your Dental Crowns in a Single Visit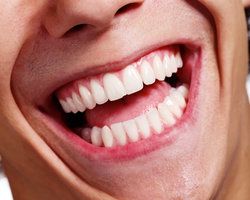 When patients' teeth have been significantly weakened from injury or decay, they want to regain a full, healthy smile as soon as possible. Dental crowns are a reliable and effective way of protecting teeth from further damage, but they normally require multiple office visits before the procedure is complete. Now, with in-office CEREC, our patients can receive their crowns and other ceramic restorations on the same day as their initial appointment. If you are in need of crowns for one or more teeth, here is what you can expect from the efficient technology offered at our Edmonton office.
Candidates for Dental Crowns
Dental crowns are typically used to protect teeth that have been weakened to the point that they are in danger of being lost completely. With a permanent crown, patients can address a number of restorative and cosmetic problems, including:
Broken or cracked teeth
Teeth that are weakened from decay
Teeth that have been worn down or eroded
Misshapen teeth
Uncovered dental implants
Dental bridges in need of support
Glaring cosmetic flaws
Because a crown simply caps a tooth and is a minimally invasive treatment, most patients are potentially good candidates. Speak with your dentist to gain a better understanding of how you may benefit from a dental crown or alternative restoration.
Get Your Crowns in a Day
Traditionally, most dentists require multiple visits to complete the installation of dental crowns. At our cosmetic dentistry office, however, your crowns can be prepared, crafted, and installed in a single day. Here's how it works:
For each tooth that will receive a crown, a thin layer of enamel will be removed from the surface. This allows room for the crown, as it will take the place of a tooth's protective outer layer.
Impressions will be taken of the tooth. From these impressions, the CEREC will create a 3-D model of the tooth and the crown to complement it.
While you wait in our office, the CEREC system will create a ceramic crown for your tooth. This process can often be completed within an hour.
Once ready, the crown will be positioned to ensure a precise fit, and then permanently cemented in place.
Other ceramic restorations, such as porcelain veneers, inlays, and onlays, follow a similar procedure. Once your dentist has determined the best treatment for you, the health and appearance of your smile can be significantly improved in just one appointment.
Benefits of CEREC Crowns
By having your crowns created right in our dental office, you gain a variety of benefits:
Convenience: When crowns have to be crafted in a lab outside the office, they require at least two appointments, often spanning one or two weeks. If a crown does not fit on the first try, a new one may need to be crafted, resulting in an even longer wait. With our in-office technology, you can complete the procedure in just a few hours.
No temporary crowns: Between a tooth being prepared and the crown crafted, patients are normally given a temporary crown to wear in the interim waiting period. At our office, you can immediately receive a permanent restoration without the need for a temporary replacement.
Immediate feedback: Because your dentist is also in control of the restoration, you know that the crown will be crafted accurately to your needs. The shape, size, and color will all be directly matched to your tooth, and any necessary modifications can be made on the spot, eliminating the need for back-and-forth communication with an outside lab.
Learn More about Instant Restorations
Dental crowns and similar ceramic restorations can save your teeth, both cosmetically and structurally. With the efficiency and reliability of our CEREC technology, restoring your smile has never been easier. Contact us to schedule an appointment with Dr. Podilsky or to learn more about our treatments offered.
Related to This