Home |
Cosmetic Dentistry
Creating Unforgettable Smiles
Cosmetic Dentistry Edmonton, Alberta
Dr. Podilsky and his Edmonton, Alberta staff are committed to providing exceptional quality care, ensuring every patient is given a smile they love. Here are some of the techniques they use to transform smiles into stunning masterpieces: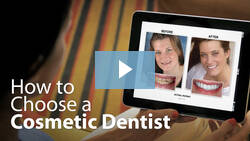 Cosmetic Dentistry
When looking for a smile that will turn heads, turn to Dr. Podilsky for a smile design. Using a combination of aesthetic dentistry procedures at his Edmonton, Alberta offices, Dr. Podilsky can create the smile of your dreams. Start with a free consultation. Dr. Podilsky will evaluate your entire mouth – including your teeth, jaw, and gums – and discuss your smile design options with you. Contact him at his Edmonton, Alberta dental office to learn more.
Full Mouth Restorations
TMJ problems, such as tension or pain in the jaw, may be a result of poor bite or damaged, shortened teeth. If you are experiencing these symptoms, full mouth restoration may be a good option for you. Full mouth restoration involves transforming and restoring each and every individual tooth. On the first visit, we will determine your ideal bite (occlusion) by relaxing your jaw muscles and determining where the muscles and jaw are most comfortable. We then make your restorations to fit that position, ensuring the tension and pain will disappear. On your second visit, we remove any previous dentistry and prepare your teeth for the new restorations. Finally, you will be fitted with temporary restorations while the lab creates your new teeth, and in three weeks, you will have the dazzling, healthy smile you dreamed of. To find out if full mouth restorations are right for you, contact Dr. Podilsky today.
Porcelain Veneers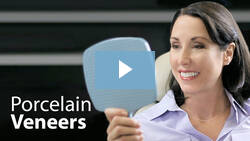 Patients looking for a simple and fast way to transform their crooked, stained, or chipped teeth can rely on porcelain dental veneers. This procedure involves the application of thin veneers over the surface of the teeth. Learn how to achieve a dazzling smile with porcelain dental veneers from Dr. Podilsky's Edmonton, Alberta office.
Dental Implants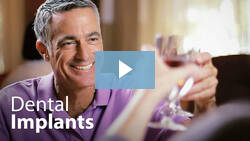 Your smile can be marred by a missing tooth. That's where dental implants come in. From his office in Edmonton, Alberta, Dr. Podilsky can use dental implants to replace missing teeth and restore your smile. Learn how dental implants work, or find answers to commonly asked questions about implant dentistry.
Bonding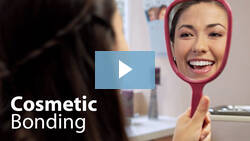 Bonding is similar to veneers in that it straightens, repairs, and whitens teeth. Using a composite of materials to match the shade of your teeth, Dr. Podilsky can use bonding to restore your smile. At his office in Edmonton, Alberta he will roughen the teeth and apply primers. Continuing the bonding process, a thin coat of resin or plastic is spread over the teeth and sculpted to the proper shape. The bonding material is then exposed to a high-powered light that hardens it and bonds it to the tooth. The tooth is then polished and shaped to match the rest of your teeth. The end product is a dazzling, healthy smile devoid of fractured, discolored, or uneven teeth.
Composite bonding should last for several years, but you may need to return to Dr. Podilsky's Edmonton, Alberta office for touch ups. You can extend the life of your bonding by avoiding coffee, tea, red wine, sweets, starchy foods, harsh toothpastes, and hard toothbrushes.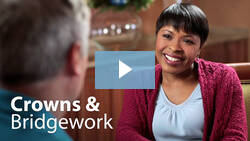 One-Visit Same-Day Porcelain Crowns
Crowns are typically used on teeth that are broken or have a large amount of decay. Because they cover the surface of the tooth, crowns hide teeth that are damaged or stained. They fit closely over your teeth for a comfortable feel, and blend in to bring your smile back to its natural splendor. Not only do they improve the look of your smile, crowns also reduce pain in injured teeth and help them resist further injury.
At his Edmonton, Alberta dental office, Dr. Podilsky will begin by numbing your teeth and the gums around them. Then, your teeth will be shaped so that the crowns will fit and match the other teeth around them and any decay will be removed. These impressions will be transmitted to a CEREC machine, which will craft your crown from a single block of porcelain using diamond-tipped milling tools. You will be fitted with your crown immediately after, and you can begin enjoying the benefits of your porcelain crowns.
Teeth Whitening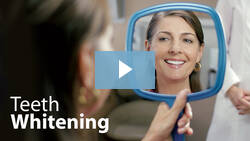 One of the quickest and most affordable options for creating a whiter smile is teeth whitening. Unsightly stains from coffee, tea, and wine can be removed with this simple treatment. Dr. Podilsky offers two types of teeth whitening at his Edmonton, Alberta offices.
If you want to learn more about smile design techniques, including full mouth restoration, porcelain veneers, dental implants, bonding, porcelain crowns, or teeth whitening, in Edmonton, Alberta, contact Dr. Podilsky today.
Invisalign®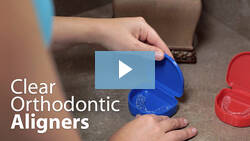 With Invisalign® invisible braces, the teeth are moved using a series of custom-made, removable aligners. This orthodontic technique can create a straighter smile with less discomfort than traditional metal braces, and is an excellent option for adults hoping to improve their teeth without noticeable brackets or wires. With the help of a specialized computer program, each clear plastic aligner is designed to fit the unique contours of the patient's mouth. Thanks to Invisalign®, achieving a beautiful smile has never been easier. Learn more about Invisalign®.
Equipment
Dr. Podilsky and his staff use the technology to ensure that your trip to the dentist is as comfortable and safe as possible. Some of his equipment includes:
Soft-Tissue Laser
If excess gum tissue is partially obscuring your teeth, a soft-tissue laser can reshape your gums, giving your smile an attractive new frame.
Intra-oral Cameras
The intra-oral camera allows Dr. Podilsky to take a close look inside your mouth. This tiny camera takes images of your teeth that come up on a monitor, allowing you to see what he sees. That way, you can discuss your concerns with Dr. Podilsky before treatment even begins, and you will have a better understanding of the procedure. Digital cameras are used to take pictures of your teeth that can be printed out for you and the dentist to see.
I-CAT Digital X-Rays
When placing dental implants, the dentist must carefully plan the best positioning for the implant, taking care to avoid interference with the sinuses and other structures. To help your dentist determine the best approach to your dental implants, we use I-CAT digital x-rays, which produces a high-resolution images while emitting less radiation than traditional x-rays.
Computers and Imaging Software
Computers are a good tool for people who are considering having cosmetic work done on their teeth, but are unsure if it is right for them. Computers allow you to see a realistic image of what your new smile will look like before treatment begins. An image is taken of your teeth, and through computer imaging you can see what they will look like after your dental work is completed. This can help you decide which procedure is best for you.
Zoom!® Whitening
Zoom!® Whitening is a relatively painless and simple procedure. Using the Zoom!® teeth whitening gel and a special light to activate it, your teeth can get up 10 shades whiter in just one visit. This procedure is fast, safe and relatively painless. Call Dr. Podilsky today to schedule an appointment.
CEREC® is an exciting new development in the world of dental restorations that allows you to receive a custom-made porcelain crown in a single visit. A digital scan of your mouth guides automated diamond-tipped milling tools in crafting a crown from a single block of porcelain. In a fraction of the time needed to receive a conventional crown, you can be ready to face the world with a beautifully restored smile.