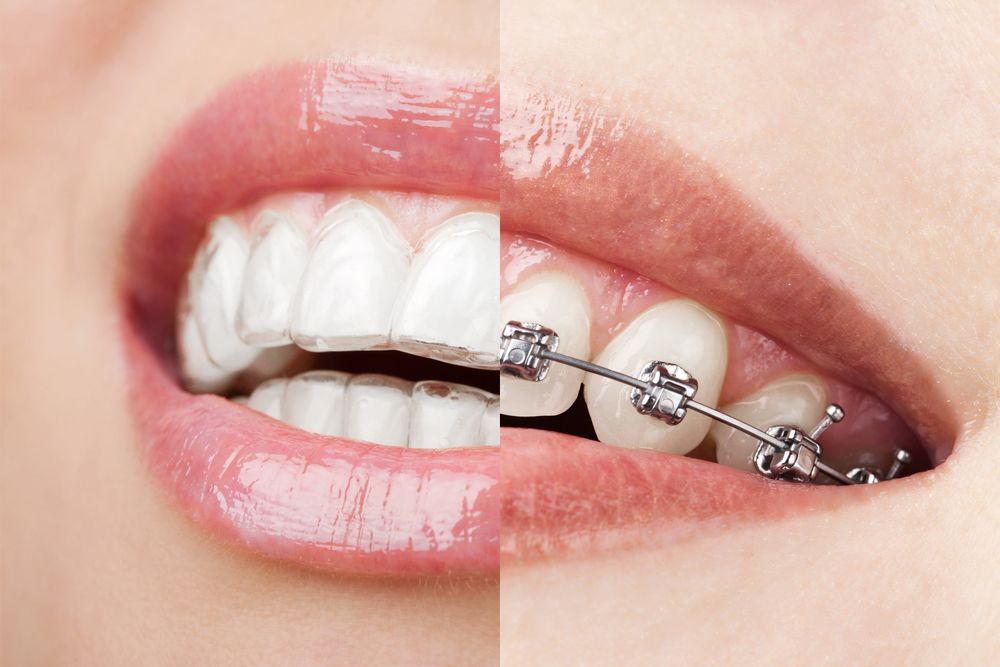 Invisalign® is a teeth straightening treatment that is highly requested by Dr. Nathaniel Podilsky's Edmonton, AB, patients. Invisalign uses a series of clear plastic aligners to straighten the teeth and correct the bite discreetly and comfortably. While Invisalign offers many benefits, not everyone is a suitable candidate for treatment.
Patients may be disheartened to learn that Invisalign is not right for them, but there are Invisalign alternatives that can provide the straight, attractive smile that people desire. Here we discuss some of the most common Invisalign alternatives that may be suitable for individuals with mild to moderate malocclusion problems.
Traditional Braces
Traditional braces are the most common Invisalign alternative. Braces use a system of metal brackets and wires to apply subtle pressure that gradually changes the position of the teeth and jaw. Braces treatment takes place over several months, just as Invisalign treatment does, and the costs of care are comparable as well.
Braces have somewhat of a bad reputation, because they stand out against the teeth and are known to cause some degree of discomfort. However, most people adjust to braces fairly quickly, so that treatment becomes pretty comfortable. And braces brackets now come in a variety of colors, so patients can try to be discreet with their treatment by choosing tooth-colored brackets, or they can have fun customizing their smile with bright colors. Finally, braces are one of the most reliable treatments for a wide range of moderate to severe malocclusion problems, including:
Crooked teeth
Gapped teeth
Overbite
Crossbite
Underbite
Porcelain Veneers
Our Edmonton patients who want to enhance the appearance of their smile without committing to months of orthodontic treatment may be ideal candidates for porcelain veneers. Porcelain veneers are a cosmetic dentistry treatment. These restorations do not shift the teeth or correct the position of the bite. Instead, they are bonded to the facial surface of the teeth to cover up aesthetic imperfections, such as:
Gapped teeth
Overcrowded teeth
Crooked teeth
Misshaped teeth
Dental stains or discoloration
Chips, cracks, or fractures
Since porcelain veneers only enhance the aesthetics of the smile, candidacy is limited to patients with minor malocclusion problems. If crooked teeth or a misaligned bite are severe enough to interfere with oral functions or compromise oral health, then braces are probably a more suitable Invisalign alternative.
Dental Bonding
Dental bonding is a final consideration for our Edmonton patients who want to achieve a more straight and uniform looking smile. During dental bonding treatment a tooth-colored compound is applied and shaped directly to the teeth. Once the material is hardened, it can last for several years.
Dental bonding is limited in the types of malocclusion problems that can be corrected, but it is effective at addressing minor alignment issues, including gapped teeth, misshaped teeth, or teeth that are slightly turned or crooked.
Contact Our Dental Office
Dr. Nathaniel Podilsky offers a comprehensive range of dental treatments that can address malocclusion problems to provide patients with a straighter, more attractive smile. If you are interested in learning more about our services, and which may be right for you, send us a message online, or call our practice at (780) 428-6846.
Related to This