How Porcelain Veneers Fix Stained Teeth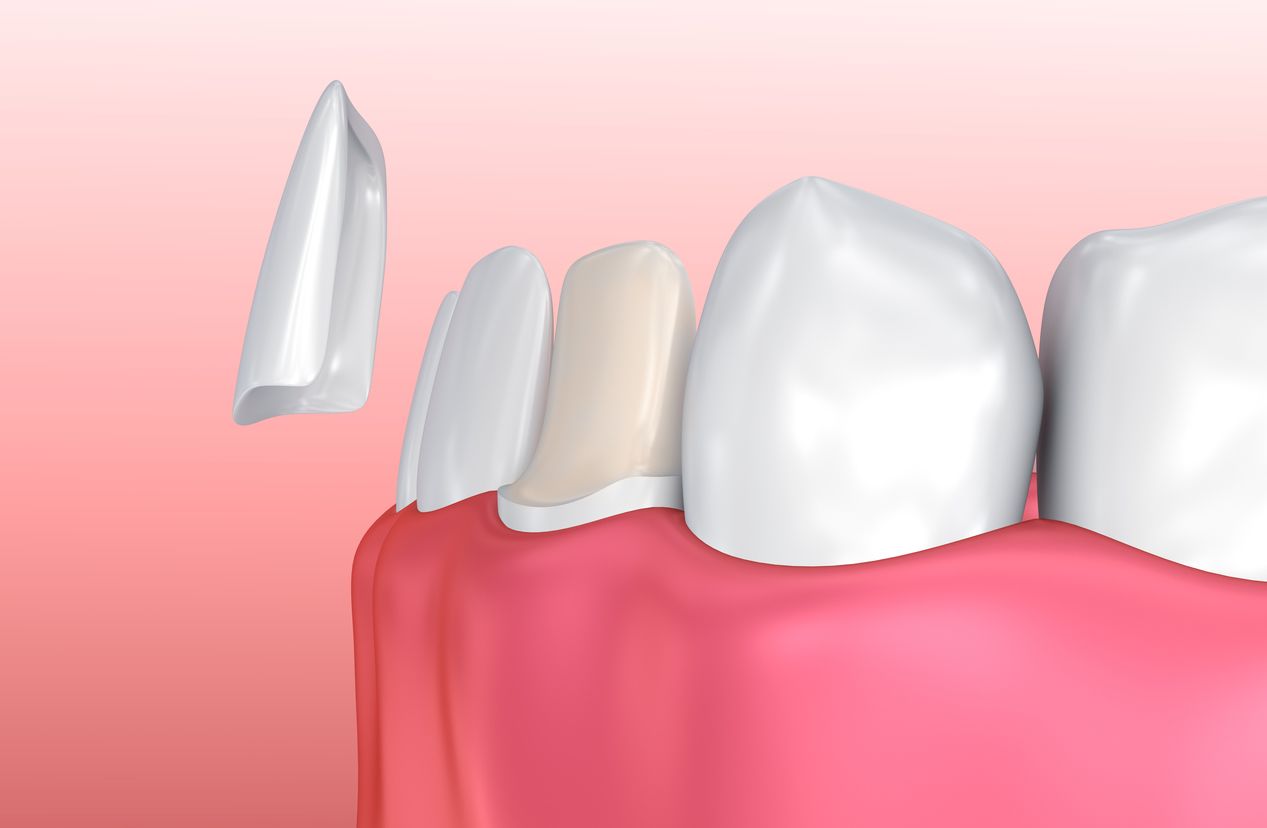 Straight teeth comprise only one aspect of an attractive smile. The other crucial element, the color of your teeth, can make or break a first impression. If your teeth are yellow, stained, or discolored, this can strongly diminish the appearance of your smile.
Thankfully, there are ways to quickly achieve a whiter, brighter smile. Porcelain veneers can conceal stained teeth from view. Learn more about porcelain veneers treatment with Dr. Nathaniel Podilsky at our practice in Edmonton, AB.
How do porcelain veneers work?
You may be wondering how exactly porcelain veneers whiten your teeth. The simple answer is: they do not bleach the teeth per se, they simply cover up flaws from view.
Porcelain veneers are small, yet durable ceramic shells that are bonded to the front of your teeth. They are matched to the natural color of your surrounding teeth. This helps them blend in and look natural. Choosing the perfect shade can be difficult. We will help select the right color that complements your other teeth.
Why choose porcelain veneers over teeth whitening?
When it comes to whitening teeth, other options can be effective, however there are numerous reasons for choosing veneers instead.
Teeth whitening is a popular option for treating stains and tooth discoloration. Using bleaching agents on the teeth can certainly be effective. Patients often need multiple whitening sessions over the course of several weeks to achieve final results. Keep in mind that teeth whitening is only able to address extrinsic stains that form on the surface layer of a tooth.
Porcelain veneers achieve whitening results in less time and fewer visits than a full teeth whitening treatment. In addition, porcelain veneers can mask intrinsic stains or deep stains on a tooth. These kinds of stains typically do not respond to traditional teeth whitening treatment.
Additional Cosmetic Benefits of Porcelain Veneers
Getting veneers at our Edmonton practice will also help additional cosmetic flaws affecting a tooth in addition to stains and discoloration. In addition to stained teeth, porcelain veneers can be used to treat chips, cracks, tooth gaps, uneven size, and other causes of smile asymmetry.
How Porcelain Veneers Are Placed
During porcelain veneer treatment, a small amount of tooth enamel is removed. This helps accommodate the thin veneer, and allows the tooth to look natural when the veneer is in place. With the enamel removed, an impression is taken of the tooth. This impression is used to craft a custom veneer that fits seamlessly onto the prepped tooth. Patients will wear temporary veneers while their custom veneers are being crafted.
When the permanent veneers are ready, the temporary veneers are removed. The permanent veneers are checked for fit before they are finally adhered in place.
The Results of Porcelain Veneer Treatment
Porcelain veneers can white smiles and cover up unsightly stains. With proper aftercare and regular dental visits, the veneers can last for many years.
How we feel about ourselves plays a large part in our daily lives. By giving yourself the gift of a new smile, you may find that your self-confidence skyrockets. Smiling and conversing may come more easily without that nagging self-conscious feeling about your smile.
Schedule a Consultation Today
Have we sparked your curiosity in porcelain veneers? Get a whiter smile today and join us for a consultation. Give our Edmonton office a call at (780) 428-6846 or schedule an appointment today online.
Related to This