Adult Braces - What Are the Options?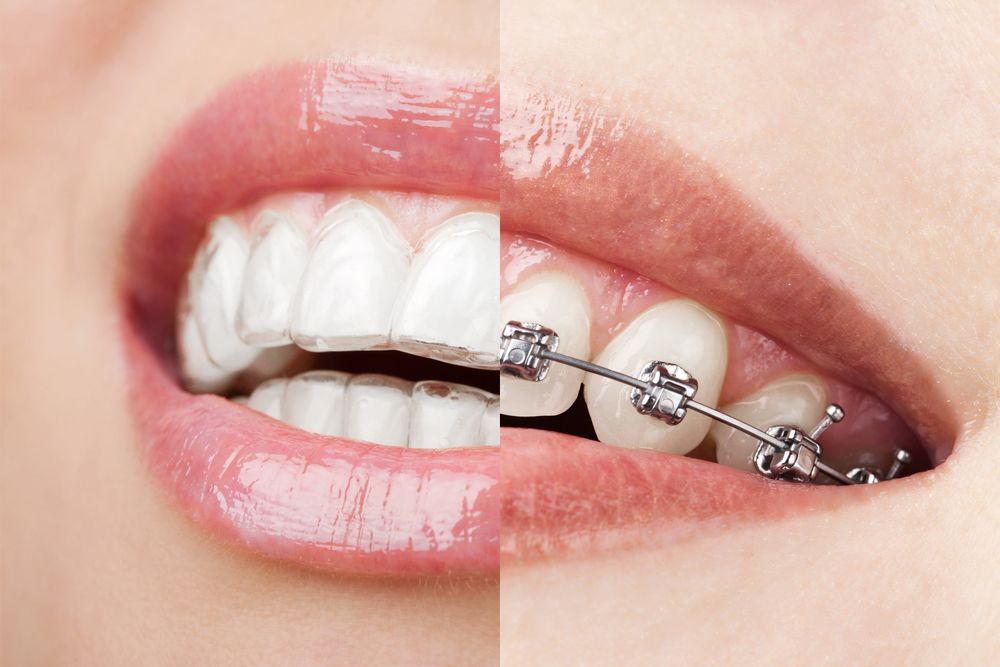 Orthodontic issues can compromise the function and aesthetics of the smile. Malocclusion problems are often linked to children and teens, but adults commonly have issues as well. Many adults never had orthodontic work when they were younger, while others experience shifting of the teeth and jaw years after undergoing orthodontic treatment.
Most adults are eager to have straighter teeth, but don't know the best way to move forward. At our Edmonton, AB, practice, Dr. Nathaniel Podilsky offers orthodontic treatment to straighten the teeth and align the bite. He is happy to go over all of the adult braces options with our patients so they can find the solution that is most appropriate for their unique needs and desires.
Traditional Braces
Traditional braces are of the most trusted types of orthodontic treatment, and they remain one of the most popular orthodontic options today. Traditional braces use a series of metal brackets and wires to apply pressure to the teeth and jaw so that they gradually shift to their correct position.
Traditional braces are extremely effective, but they tend to be a better option for children and teens than adults. The major drawback of traditional braces is that they are noticeable. It is impossible to hide the metal brackets and wires that sit over the teeth. While some adults still choose this traditional orthodontic treatment, many seek out a more discreet alternative.
Clear Braces
Clear braces are a good option for our Edmonton patients who like the traditional approach of braces, but prefer a less noticeable option. Like traditional braces, clear braces use brackets and wires to correct the bite and straighten the teeth. However, with clear braces treatment, we use translucent or tooth-colored brackets, along with tooth-colored wires. Clear braces are not quite invisible, but they are much less noticeable than traditional metal braces.
Aligner Trays
Aligner trays are one of the most popular adult braces options. Invisalign® is probably the most well-known aligner system, but there are actually several brands to choose from. Aligner trays aren't braces because they don't use brackets and wires. Instead, patients progress through a series of clear plastic aligner trays. Each tray fits slightly different so that the teeth and gums receive pressure throughout treatment until they have shifted to their ideal position.
Aligner trays offer several benefits over traditional braces. Their discreet appearance is the most obvious advantage, but they are also extremely convenient and easy to clean. Aligner trays are the only removable orthodontic treatment; the trays can be taken out of the mouth any time our Edmonton patients eat, drink, or brush their teeth.
Porcelain Veneers
Sometimes referred to as instant orthodontics, porcelain veneers are another option for our patients to consider. Porcelain veneers bond to the facial surface of the teeth to hide minor spacing or alignment issues and give the appearance of a straight, white teeth.
The greatest benefit of porcelain veneers is that they completely makeover the smile in a matter of weeks, instead of months. However, porcelain veneers are only a cosmetic solution, so they are not a good option for patients with advanced orthodontic issues that may be compromising oral health or functions.
Learn More
If you are an adult who is unhappy with the appearance of your smile due to malocclusion problems, we encourage you to contact us at your earliest convenience to learn more about adult braces options. Call (780) 428-6846 to discuss your concerns with Dr. Nathaniel Podilsky so he can create a treatment plan personalized to your unique needs.
Related to This