How Can Chipped Teeth Be Treated?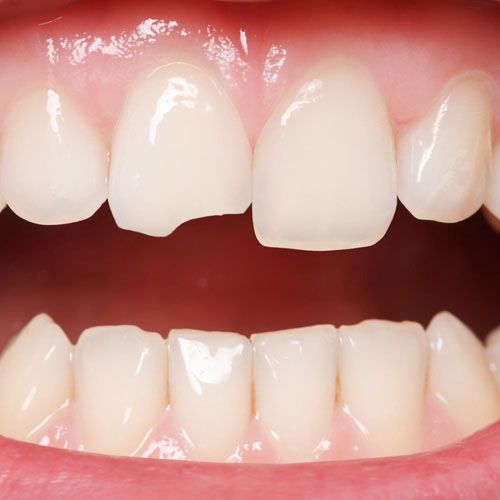 Chipped teeth are among the most common of all dental problems. They can occur to anyone at any time, whether due to a fall, trauma to the mouth, a sports injury, or an oral health problem. Some chips present merely superficial problems and can easily be concealed using porcelain veneers or other cosmetic dentistry treatments, while others endanger the health of the tooth and require restorative dental solutions. Whatever the case, Dr. Nathaniel Podilsky and his team of dental experts offer a comprehensive range of treatment options for chipped teeth at their Edmonton, AB cosmetic, restorative, and general dentistry practice.
If you have suffered a chipped tooth for any reason, we encourage you to schedule your initial consultation with Dr. Podilsky today.
What treatment options are available for chipped teeth?
A chipped tooth can be treated in several possible ways, depending on the cause of the chip and the extent to which it is compromising the structural integrity of the tooth. The appropriate treatment may also depend on where in the mouth the chipped tooth is located. For example, a chip in one of your front teeth may call for a treatment option such as porcelain veneers, while a chip in one of your back teeth may more appropriately be treated with an inlay or onlay.
The treatment options available at Dr. Podilsky's dental practice include:
Porcelain veneers: Dr. Podilsky provides his patients with veneers crafted from the finest dental-grade porcelain available to ensure both natural-looking and long-lasting results. Like natural tooth enamel, porcelain is translucent, meaning that it allows some light to pass through its surface, rather than simply reflecting it. When bonded to the front surfaces of the teeth, porcelain veneers conceal chips as well as other aesthetic flaws, such as cracks, discoloration, and imperfections in size and shape.
Dental bonding: Dental bonding involves the application of a composite resin material to your damaged tooth to conceal chips and other cosmetic flaws. While the bonding material is not translucent like porcelain, it is color matched to resemble your surrounding natural teeth. Dental bonding offers an excellent, cost-effective alternative to porcelain veneers.
Tooth-colored dental fillings: Modern tooth-colored dental fillings are as hard-wearing as their silver amalgam counterparts, but are completely mercury free and blend seamlessly into the smile. They are used to fill in minor chips.
Inlays and onlays: For moderate-sized chips - too large for a tooth to support a tooth-colored filling, but not so large as to necessitate a dental crown - Dr. Podilsky may recommend an inlay or an onlay. An inlay is a custom-crafted porcelain restoration that fits within the protruding cusps of a tooth, while an onlay lies atop at least one of the cusps.
Dental crowns: If a chip is so large that it threatens the structural integrity of the tooth, then Dr. Podilsky will likely cover its entire visible surface area with a dental crown. A dental crown is a restoration designed to resemble a natural tooth while protecting the remaining tooth structure from further harm.
Learn More about Treatment Options for Chipped Teeth
To learn more about treatment options for chipped teeth, please contact the cosmetic, implant, and family dentistry practice of Dr. Nathaniel Podilsky today.
Related to This